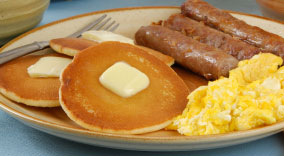 The 2012 La Salette Rummage Sale & Pancake Breakfast will be: Friday, May 25 from 8:30 a.m. until 4 p.m.; Saturday, May 26 from 8:30 a.m. until 4 p.m.; Sunday, May 27 from 8:30 until noon.
Items available for purchase include kitchenware, furniture, athletic equipment, toys, games, books, jewelry and more.
There also will be a bake sale during the same days and hours. There also will be a raffle.
New this year The Knights of Columbus will be cooking lunch on Friday and Saturday. Menu to include  hot dogs and chips $1, small beef sandwiches and chips $2.
On Sunday, May 27 there will be a pancake breakfast from 8:30 a.m. until noon. Menu to include pancakes, sausage, eggs, juice and coffee. Breakfast is $6 for adults and $4 for children ages 4 – 12.
La Salette is located at 10330 336th Ave. (Highway KD), Twin Lakes.  For more information call 877-3111 or visit www.lasaletteshrine.org