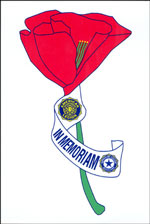 American Legion Auxiliary Unit 293 of Silver Lake will be distributing poppies on May 25 and 26 at businesses in Paddock Lake, Bristol and Silver Lake.
Donations collected for poppies can only be used for veterans and their families.
The poppies are hand-crafted by veterans in the Poppy Shop at Zablocki VA Medical Center, to give them physical therapy and financial independence.
Schultz-Hahn Unit 293 assists veterans at Wisconsin Veterans Home in Union Grove, at Zablocki VA Medical Center and Kenosha Outreach. The Auxiliary also donates poppy money to scholarships for children of veterans, Camp American Legion in Minoqua for veteran rehabilitation, Children and youth Emergency Fund and several others. The units annual Vets Outing is a tradition that has lasted several decades.
When you see a volunteer, please take time to consider a donation and proudly wear the poppy in memory of those who died for our freedom.