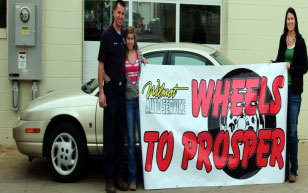 Wilmot Auto Service is a westofthei.com sponsor. — DH
Dwayne and Cindy Garwood, owners of Wilmot Auto Service, are part of a nationwide car giveaway and they're looking for deserving people in the community for this opportunity.
To nominate someone that you feel is deserving of receiving a car, send a full detailed letter about him or her. Explain what distinguishes this person as a major contributor to the community who is worthy and deserving of this car. Please send your correspondence to:
Email: wilmotauto@bizwi.rr.com Subject Line: Wheels to Prosper
Mail: Wilmot Auto Service PO Box 127 Wilmot, WI 53192 Attn: Wheels to Prosper
Fax: 262-862-7299
Three finalists, their friends and family will be invited to a lunch. One name will be pulled from a hat to reveal the 2012 Wheels To Prosper Winner! The car will be given away on Saturday, July 14, 2012 at noon at Wilmot Auto Service 11307 Fox River Road. Wilmot. The person this car is awarded to must be present at the luncheon that day.
Deadline for submitting letters is June 17, 2012.
The Garwoods have chosen a 4-door Saturn and have made sure it is running great. Included will be free oil changes with inspections from Wilmot Auto Service for the Saturn.