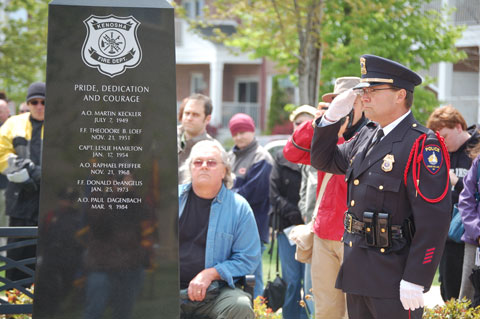 Law enforcement agencies from throughout Kenosha County were represented today in the annual  Kenosha Law Enforcement Memorial Service Wednesday in Kenosha.
Rain threatened to move the ceremony indoors but those involved persevered and the light rain stopped soon enough.
The service is held each May to honor those in law enforcement who have died while serving the citizens of Kenosha County. The memorial is located near the Kenosha Public Museum and Civil War Museum in Kenosha.
This year's guest speaker was Kenosha County Circuit Court Judge Wilbur Warren III. Wisconsin Attorney General J.B. Van Hollen also spoke, as did Kenosha Police Chief John Morrissey and Sheriff David Beth.
Here is a video of some excerpts of the speeches and other aspects of this very moving ceremony:
The memorial carries the names of the following officers who died while serving as police officers.
Kenosha County Sheriff's Department
Blanco Aquino
James C. Rieschl
Frank Fabiano Jr
Kenosha Police Department
Antonio Pingitore
Gary W. Fraid
Donald Murphy
Dreux Beaulier
Here are more photos: