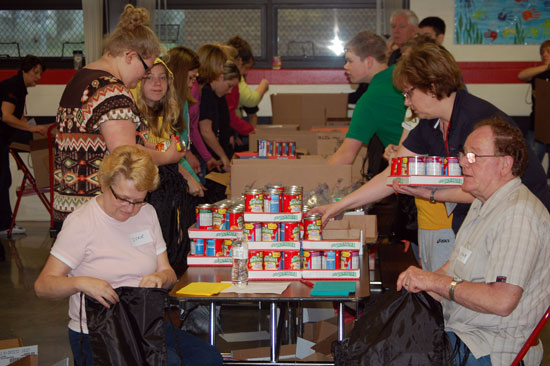 About 40 volunteers came to Paris School Saturday to fill about 500 back packs with food designed to help children in households where food may be scarce as part of a Catholic Financial Life fraternal organization community service project.
The project was part of Catholic Financial Life's participation in Join Hands Day, a national event sponsored by the American Fraternal Alliance.
Karen Stiles of Catholic Financial Life explained that while looking for a project to  tie into combating childhood hunger representatives of the organization researched Department of Public Instruction stats regarding free and reduced lunch eligibility in Western Kenosha County school districts and found substantial need. One district, for example, had 46 percent of its students eligible. And while the lunch program might ensure these students have a good meal during the school year there were obvious gaps left.
"What happens on the weekend?" Stiles said. "How do they access food?"
Organizers of the project hit upon the back packs of food. The idea is that the schools could identify which families would benefit the most and send the back packs home with the extra food for the weekend. The back packs will be distributed to eight Western Kenosha County schools.
Helping out at Paris School Saturday with the work of filling the back packs were volunteers from Catholic Life Financial, 4-H, Girl Scouts and St. Joseph High School in Kenosha. Catholic Financial Life provided funding, as did Westosha Kiwanis Club, which donated $500. Love INC and The Sharing Center served as partners for the project.
The organizational efficiency of the assembly line set up Saturday in the school cafeteria was impressive, filling and packing the 500 back packs in less than an hour. Here's some video: