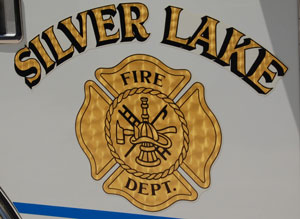 The Silver Lake Village Board Emergency Government Committee will be inviting two representatives each from the Silver Lake Fire Department and the Silver Lake Rescue Squad to a discussion about a possible merger.
A merger of the departments was one of five scenarios for the future of village emergency services described by an ad hoc committee formed by the board last year to plan for the fire department's future.
At Wednesday's regular Village Board meeting, Trustee Michael Decker made the suggestion that two representatives of each department, who are not on the ad hoc committee, meet to discuss aspects of a merger.
"There are issues that definitely will have to be worked out," said Decker, who is a fire department member and a member of the Emergency Government Committee.
Trustee Sue Gerber said she favored the idea of separating further discussions of a merger from the ad hoc committee, which was made up of  a variety of fire service veterans, some from within the Silver Lake Fire Department and some not.

" I think the whole thing is being clouded by this ad hoc committee," said Gerber, whose son, Dan Gerber, is president of the Silver Lake Rescue Squad.
Village President Jeff Albrecht expressed concern about where direction for such discussions would come from. Decker suggested the board, but through discussion that was modified to the Emergency Government Committee. The committee could set topics before the rescue and fire department representatives, in effect setting the agenda for talks and guiding the process.
New Trustee Cyndy Schwebke is the chairman of the committee and Trustee Pat Dunn is the other member.
Albrecht suggested that progress on the talks be reported by Schwebke as part of standing committee reports.
A merger is complicated by the two departments' different organizational structure. The fire department is part of the village government and ultimately answers to the Village Board. The rescue squad is a stand alone private entity with which the village contracts for emergency medical services. Other municipalities also contract with Silver Lake Rescue.
The ad hoc committee said in a report on the five alternatives that a merger would improve village emergency services by having the departments sharing equipment, manpower and structure and guaranteeing an adequate response during the working day with cross-trained firefighter/EMT personnel.
Other alternatives proposed by the ad hoc committee were:
Also on Wednesday, the board reappointed the ad hoc committee, originally only constituted for six months,  for consultation as needed, without any set schedule of meetings. Gerber voted against the reappointment.
Related posts
Silver Lake Rescue Squad president airs concerns about possible merger process
Silver Lake Rescue president and village president trade opinions on merger study process
Merging Silver Lake fire and rescue departments discussed
Silver Lake Ad Hoc Fire/Rescue Department Committee ready to meet with Village Board