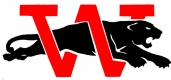 Wilmot Panthers won again in trap shooting on April 17 at home in a virtual shoot where the team shot against the top 5 teams' averages
Varsity won 117-104. Top 5 shooters: Dakotah Gyger PERFECT 25, Joe Asleson, Steve Heelein, Emily Galuszka, Bodey Kaskin.
JV celebrated their 5th victory 110-89. Top 5 shooters: Kurt Wagner, Brendon Pietschman, Jacob Head, James Daniels, Kyle Pufahl.
Intermediate won their meet 104-64.Top 5 shooters: Josh Fuson, Evan Orre, Monica Dale, Croy Kirch, John Zeitler.