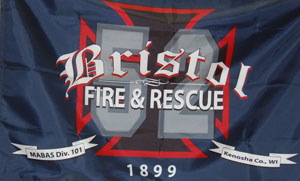 A maximum cost of $40,000 was approved by the Bristol Village Board Monday night for repairs to the Bristol Fire Department's ladder truck.
The board had previously approved spending $30,000 to repair a valve related to the ladder mechanism, fire Chief Peter Parker said.
Subsequently, it was discovered that the last section of the ladder itself  also needed replacement, Parker said.
Originally the valve repair was to be done by an outside company. But the department's mechanic will now do the valve repair and the ladder repair, saving labor costs.
The parts for the valve repair cost $9,800 and the ladder section costs $18,000, Parker said, There also may be some additional costs for shipping and re-certification of the ladder.
Replacing the ladder truck would cost from about $400,000 for a used model to about $700,000 for a new one, Parker estimated.
"We're saving a ton of money by doing this," Trustee John McCabe said.
The ladder truck will be out of service while the repairs are made.
The approval to extend the repairs to $40,000 was unanimously approved by the board.