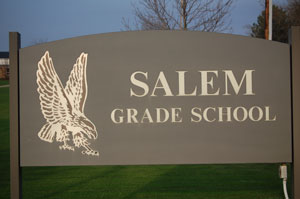 Salem Grade School dean of students James Block will be receiving a preliminary notice of non-renewal after action by the School Board Tuesday.
The action was recommended by district administrator David Milz as a deficit reduction measure. School officials anticipate facing about a $289,000 deficit for next year's budget.
Issuing the preliminary notice was approved unanimously by the board.
The dean was only instituted last year as a teaching postion, not as an administrator, Milz said. The dean handled school wide discipline, supported classroom teachers for discipline and also handled bus-related discipline.
The action would have to be confirmed by a permanent notice to Block by May 15.
If the action does become permanent, discipline would again be handled by the schools "administration team," Milz said.
While having a dean allowed the principals to focus on leadership and instruction, Milz conceded "it's not uncommon for principals to deal with discipline."
During discussion of the action, newly installed board member Jack Niccolai argued the dean position was not needed for handling discipline at Salem School. Having about 300 students per administrator is standard in the area, he said.
"I think if we're going to hire a teacher we should hire a teacher," Niccolai said.
Board member Lisa Hinze said she felt the retreat on the dean felt too short-term to her, just as she had reservations about hiring the dean last year for the same reason.
"We're making a decision without the big picture in mind," Hinze said.
The district will save about $60,000 by not renewing the dean's contract.
Other deficit reduction measures cited by Milz Tuesday include:
Not replacing two retiring secretaries, for a savings of $120,000.
Exploring possible health insurance savings.
Applying for grants.