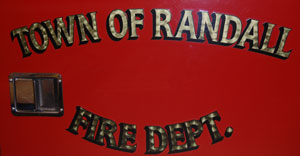 Two advisory questions regarding the Randall Fire Department were considered and approved by electors at the Randall town annual meeting Tuesday.
Both were approved, but the Town Board is not bound to enact or even further discuss either, town Chairman Bob Stoll pointed out.
Resident Anthony Johnson made both motions, which were:
Discontinue the cadet program at the fire department that is now affiliated with the Boy Scouts of America and replace it with an Explorer program to be administered by the town and fire department. A voice vote on the measure showed no one opposed.
Modify town ordinances to call for the fire chief to be appointed by the Town Board for a term of two years, with the chief required to be a town resident. The chief appointment would be done in June. Battalion chiefs and treasurer would be elected by the membership in December. Stoll declared the measure approved on a contested voice vote.
Town Supervisor Randy Kaskin, who also is a fire department member, said he has a son in the current cadet program, but he feels BSA requirements like having two leaders always present "hamstrings the town." Fire Department member Bruce Schaal said keeping that provision might be a good idea for protecting the children participating.
Resident Phil Johnson, a firefighter, said he supported the proposal regarding the chief appointment as a way to "provide some stability in an orgnaization that could always use some stability." But Schaal attacked it as beign politically motivated. He added that he felt questions about department leadership were better handled within the department then at the Town Board level.
While current Randall Chief Matt Gronke lives in Twin Lakes, current Twin Lake Fire Department Chief Stan Clause lives in Randall, Stoll pointed out.