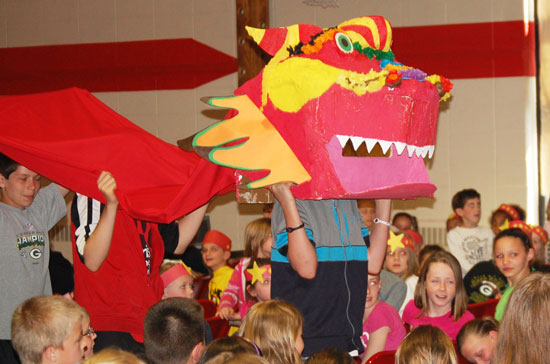 Paris School students have been reading about China and related topics as this year's all-school literacy unit.
Students have been demonstrating and building on their knowledge with a wide variety of activities including building a number of different models, decorating a hall with a giant Chinese dragon, learning about Chinese food and a lot of study of Chinese history and language.
The activity culminated in an all-school program Wednesday. Each grade prepared something related to the unit to share with the group, said Margie Blair, the school's reading specialist who coordinates the reading unit. Students also saw photos from a trip their school mascot, Parry Panther made to China with Mark Niccolia, a friend of Paris teacher Megan Elfering, and a video titled "How to Teach your Principal Tae Kwon Do," in which principal/administrator Roger Gahart takes a lesson from two student masters. Gahart likely has new respect in the halls after displaying his martial arts prowess  for the whole school — especially that last kick at the camera.
Here is some video from the assembly:

Here are more photos of the decorations around the school and from the assembly (click link below to see photos):