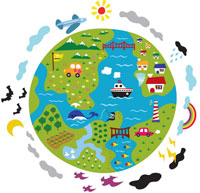 Riverview School students have been busily preparing for Riverview School's First Annual Multicultural Night, scheduled for Tuesday, April 3, from 5:30 to 7:30 p.m.
Locations that will be represented and their class are:
PreK-Jamaica.
Kindergarten-Hawaii.
First-Australia.
Second-China.
Third-European Celebrations.
Fourth-Germany.
Fifth-United Kingdom.
Sixth-Greece.
Seventh-Latin America.
Eighth-Japan.
Spanish-Mexico.
Mini-language lessons, student displays, music, dances, and storytelling are a few of the exciting activities offered.
In addition to teaching about different cultures, Riverview will be raising money for its PTO. Food samples donated by area restaurants and Riverview families will be available for purchase.