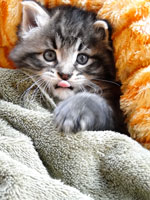 Pitter Patter Animal Rescue 220 E. Lake St., Silver Lake,  a no kill, 501(c)(3) animal rescue will be manning a "Help The Rescues" donation table at Sentry Foods 600 N. Lake Ave., Twin Lakes, on Sunday April 1, from 11 a.m. to 5 p.m.
Many of the items on the wish list may be purchased at Sentry as you do your weekly grocery shopping or dropped off at the shelter. Please call the shelter before dropping items off.
Wish list includes: paper towels, cleaning supplies, dish/hand soap,bleach,hand sanitizers, laundry detergent,peroxide, gauze, rubbing alcohol, dog/puppy food, cat/kitten food, treats, kitty litter, litter boxes, newspaper, shredded paper,towels, wash/dish rags, sheets, table clothes, napkins, bed spreads, blankets,plastic grocery bags, trash bags, cages/carriers, food dishes, pet toys, leashes, collars, baby thermometer, baby scale, micro chip scanner, funds for friends cash register receipts and monetary donations.
For a complete list visit www.pitterpatteranimalrescueinc.org.
For further information please call Jamie at 262-758-6143 or email her at pitterpatteranimalrescueinc@ymail.com All donations are gladly accepted.