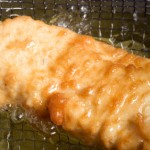 Bristol School District is hosting a community fish fry on March 30, from 4 to 7:30 p.m., in the school cafeteria, 20121 83rd St., Bristol.
Proceeds from the event will benefit the band and school technology.
Fish Fry tickets may be purchased at Bristol School between the hours of 7 a.m. to 4 p.m., weekdays.
Advance tickets are: $6 for children 6 to 12; $7 for senior citizens; $8 for all others. Children under 6 are free. Macaroni and cheese will also be available for those children who do not care for fish. Tickets purchased at the door will be $1 higher.
A bake sale will benefit the band program and raffles will benefit both the music department and technology for the school.  The bake sale and raffles are through PTA. The fish fry itself is to benefit technology for the school.
The Bristol School Jazz Band Central High School Jazz Band will perform starting at 6 p.m.
There is also a book fair in the library that night that benefits the library.