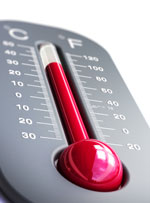 Just when you get used to June in March it all falls through.
Starting today and continuing through the weekend, high temperatures are expected to reach only the 60s, says the National Weather Service forecast. That's only 20 degrees over normal, not the 40 degrees over normal we've all come to count on this week. Bummer!
There's a decent chance of rain today and tonight and a lesser chance tomorrow as well.
On Monday you might want to break out those jackets you put away, when the high only gets to 50.