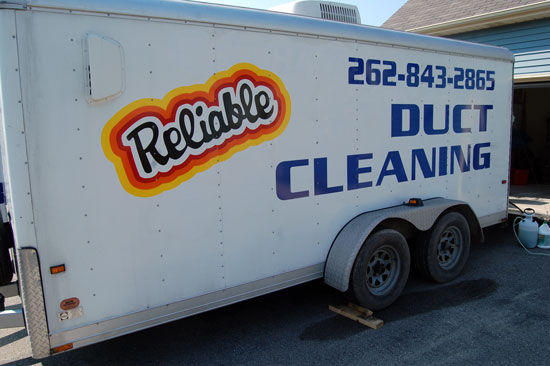 Note: Reliable Heating and Air Conditioning is a westofthei.com sponsor.

Reliable Heating and Air Conditioning is now offering the additional service of duct cleaning.
Having your air ducts cleaned can provide substantial benefits, said Rick Sheehan, Reliable owner, including:
Better indoor air quality.
Reducing the presence of allergens.
Reducing dust in a house
Improving airflow and provide better delivery of warming or cooling air.
A duct cleaning by Reliable thoroughly clears out every accessible run of supply and return duct work in your home, Sheehan said. Reliable uses a reverse pressure system that is attached near the furnace to your entire duct system. Here is a video showing the connection and how it then connects to the collection bag  outside:

Each duct is individually cleaned with an air whipping system. The air whip is fed into each duct freeing accumulated dust which is then sucked out of the  house by the reverse pressure system. In this video, Reliable Technician Bob Benedict demonstrates the air whip system:

When Reliable Heating and Air Conditioning comes out to perform a duct cleaning they start first with the furnace. A complete cleaning of the blower wheel is performed because a clean duct system, but a dirty blower wheel is not a thorough cleaning job.
Technicians then cut access holes for the suction system into the main supply duct and the main return duct. A large hose is attached to first one side and then the other as each duct is cleaned.
As the ducts are air whipped, the debris is sucked through the suction system and carried into the collection bag outside. Ducts in the main part of the house are accessed through the removed grates. Lines in an unfinished basement may also be accessed though holes drilled by technicians.
All hoses and equipment used inside your house is carefully segregated for inside use only, Sheehan said. Wall corners are protected and carpets in areas where hoses may have to lie — such as up a flight of stairs — are protected by inside only tarps. Anything disturbed is returned to its original state.
"Our goal is to have it look like we were never here," Sheehan said about the lack of mess in your home from removing duct grills etc.
However, your ductwork will definitely look different. To see just some of the dust and debris loosened by the air whipping process look at this video shot recently in a Paddock Lake home that is just 12 years old, but has never had a duct cleaning performed. What you will see is the interior of a duct and debris flying past the camera as it is loosened by the air whip:

Take a look at the following photos from the same house to see what kind of debris is collected from an average 17 grate air duct system:
Sheehan recomends a duct cleaning every 3 to 5 years.
A duct work cleaning by Reliable concludes with a cleaning of the furnace, the re-installation of the cleaned blower wheel and thorough sealing of the access holes for the negative pressure system near the furnace and any smaller holes drilled for basement duct cleaning.
Sheehan said he once was skeptical of the process but seeing the amount of debris in many ducts and how efficiently and thoroughly the system like Reliable uses removes it made him a believer and convinced him to offer duct work cleaning to his customers.
Reliable's duct cleaning staff is qualified and experienced in both duct cleaning and furnace operation.
For a limited time, Reliable is offering a free air conditioner cleaning with any duct work cleaning. Call 843-2865 today to make an appointment and start breathing easier and dusting less.