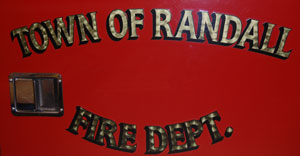 A fire in a barn in Randall Friday destroyed two RVs, a motorcycle and 1,000 bales of straw, Kenosha County Sheriff's Department reports said.
The fire was reported at about 3:45 p.m., Friday by residents of the home on the property in the 40500 block of 110th Street, Randall. Some adults and children had been outside playing catch when someone heard the fire crackling in the barn.
Attempts to control the fire by the residents were unsuccessful and 911 was called. One motorcycle was able to removed from the are of the fire.

The straw was in the barn. The RVs were in a building adjoining the garage that was engulfed in flames from the barn fire.
After the structure fires were extinguished, firefighters also put out a small brush fire along the fence line about 200 yards southeast of the barn fire scene.
Randall Fire Department Chief Matthew Gronke told a deputy there were no signs of a suspicious cause for the fire, reports said.
Related post and photo