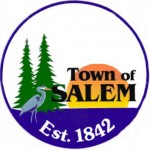 The Salem Town Board created a committee Monday designed to improve communications between the town government and residents.
The Information, Communication and Technology Committee was proposed by Supervisor Dan Campion. Its creation was approved unanimously Monday night.
"I am proud to say it is moving forward," Campion said about the vote.
Committee members will be assigned after the April election. The committee will include representation from the board, Salem small-to-mid-sized businesses, Salem residents and communications experts. The committee will meet as needed, but may become a standing committee with the town chairman's recommendation.
Objectives of the committee include creating a electronic bulletin board, assessing communications needs, developing a comprehensive media strategy, exploring technology to disseminate communications and re-evaluate the communication program for its effectiveness.