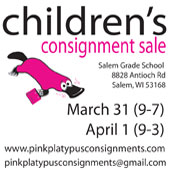 Note: Pink Platypus Consignments is a westofthei.com sponsor. — DH
If you're looking for a way to make some extra cash this Spring, then look no further than Pink Platypus Consignments.
Long time frugalista moms, Jennifer Hull and Becki Chorazy, both of Salem, are proud to announce they are now accepting consignors for Pink Platypus' Spring/Summer resale event. This consignment sale will be exclusively for seasonal high quality, gently used children's (preemie to size 16) clothes, shoes, books, toys, baby gear, maternity wear and everything else related to kids. The sale will be held at Salem Grade School, 8828 Antioch Rd., Salem. It will be open to the public on Saturday, March 31 from 9 am-7 pm and Sunday, April 1 from 9 am-3 pm. Many items will be 50% off on Sunday.
Consigning is a great way to make some cash while clearing out the clutter. Consignors who volunteer to work one three-hour shift at the sale earn 70% of their sales and two passes to the presale. The presale is not open to the public and will be on Friday (7-9 P.M.). Consignors who choose not to volunteer will earn 60% of their sales. This far outweighs what one might earn from a traditional consignment store and beats wasting hours sitting in the hot sun trying to sell your items at a garage sale for rock bottom prices. Cash, MasterCard and Visa are accepted.
Pink Platypus Consignments utilizes a state of the art barcode scanning system. Consignors simply register online at www.pinkplatypusconsignments.com and enter in their items. Print the tags, attach them to clean and well-presented items, drop them off at the sale and let Pink Platypus sell them for you. Profit checks are mailed out consignors within one week. Never been a consignor and unsure about the process? The website has very detailed step-by-step instructions. It details everything that can and cannot be accepted, tips on how to make sure items look their best, and a comprehensive pricing guide. Registration is only $10 and can be completed right through PayPal on the website.
The sale is also a perfect opportunity for those looking to purchase high quality children's items at a great price. Most items are discounted up to 60% and all items are inspected before being put on the sale floor to ensure they are not stained, broken, missing parts, etc. The first 250 shoppers will also receive bags with coupons and savings from local businesses. Admission to the sale is free for consignors and a $1 suggested donation for all other adults. All entry donations will be shared with the Salem Grade School PTO and Booster Club. Unsold items will either be picked up by consignors or donated to local families in need. Pink Platypus Consignments is working hard to bring Kenosha County a new venture that will support local schools, families, charities, and businesses.
You can learn more about this exciting new opportunity by visiting www.pinkplatypusconsignments.com.