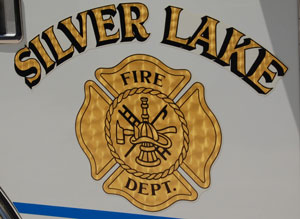 Silver Lake  Rescue President Dan Gerber and Village President Jeff Albrecht aren't seeing eye-to-eye on how the process of considering a merger of the fire department and rescue squad is going.
Gerber appeared before the board, as he did last month, to urge the Village Board to get more actively involved and control the study process. He suggested a feasibility study of the merger be done to answer crucial questions and that there not be discussions by ad hoc committee members outside of the formal process to keep rumors tamped down.
"You've got to involve everyone," said Gerber.

Gerber's lengthy comments near the end of Wednesday night's Village Board meeting drew a response from Albrecht, who initiated the ad hoc committee that is supposed to be offering alternatives for the future of the fire department. The fire department is controlled by the village; the rescue squad is a private corporate entity that contracts with the village — and other municipalities — to provide emergency medical services.
Albrecht said he was bothered by what he saw as Gerber's assertion that the village is committed to pursuing a merger. It's just one of the possibilities currently being considered by the ad hoc committee, he said.
"We're at blue skies," Albrecht said … "The committee isnt dictating to you. These are ideas floating back and forth. We're at the talking stage . This is where it starts, the exchange of ideas."
The topic of possible merger will likely be taken up again at next week's scheduled meeting of the ad hoc committee.