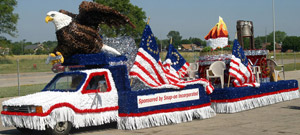 The Bristol Progress Days Parade Committee is extending an invitation to be in the festival's parade.
This year will be the 43rd year. Parade date is July 15.
The theme for this year is: Celebrate the Holidays: 2012!
The starting time for the parade is 12:30 p.m. You are asked to be in in line by noon. There is no fee for registering.
You will be instructed as to your line-up position and where to go, closer to parade time. Please provide your own vehicle and signs. Also, please remember that there are to be no campaign signs or campaigning of any kind allowed in this parade.
Express your interest in signing up for the Bristol Progress Days parade to Lisa Wadin,  Bristol Progress Days Parade Chairman and Secretary at 857-3099 or LWadin@wi.rr.com