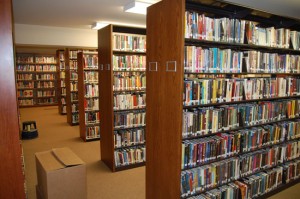 The open house in celebration of the reopening of the Community Library branch in Twin Lakes will feature performances by a folk musician and a comedy magician along with an opportunity to look over the newly renovated and greatly expanded facility.
The open house will take place from noon to 4 p.m. on Sunday, March 11 at the library. Opening remarks will be made at 12:30 p.m.
From 1 to 2 p.m., folk musician Mark Dvorak will perform "Old Songs & New People" for all ages in the meeting room. The Chicago Tribune called him "masterful," while Sing Out! Magazine said, "Dvorak shines." His song writing has been called "wondrous" and "profound," and he has an "encyclopedic knowledge of traditional songs." His show is "funny, passionate, intimate and unforgettable.
From 2 to 3 p.m., comedy magician Jason Love will perform magic tricks throughout the library. As seen on the "Tonight Show with Jay Leno," "The Travel Channel", and "Just a Show with Kevin King", Love will present an original show filled with his unique blend of comedy and magic.
The library is located at 110 S. Lake Ave., Twin Lakes. It is set to reopen to the public March 5.
Related stories
Sneak peek at Twin Lakes Community Library
Twin Lakes Community Library branch to re-open March 5
Twin Lakes Community Library closing for expansion; Silver Lake expanding hours