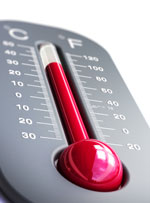 The thermometer has risen a little higher than predicted, with 54 being recorded as the temperature at Kenosha Regional Airport at about 12:15 p.m.
But it is breezy out there too. Winds are registering at 20 mph with a gust of 36 mph at the airport.
It could be a lot more winter like tonight, with a low of 30 and a chance for snow showers before midnight and flurries after.