After a stale period of student population growth, Bristol School should see over 700 students next year, district administrator Gale Ryczek said at the district's annual strategic growth meeting.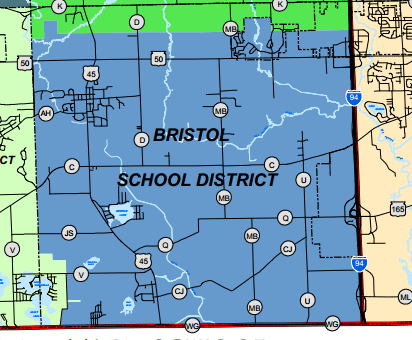 That type of population would bring the district closer to the school building's 750 student capacity.
The reason? The district's first 4K program starting this fall and continued open enrollment demand, Ryczek said. But, he added, the district is also seeing some areas that are contributing significantly more students.
Most active is the Strawberry Creek area. A few years ago, there were only nine students from that neighborhood at Bristol School, necessitating one bus. Now there are three Bristol School buses that pick up and drop-off in that neighborhood.
"There's a population boom by Strawberry Creek.," Ryczek said. "It's a fertile area."
Current Bristol School enrollment is about 680 students.
To meet the expected need for space, district representatives have looked at a few options including extending a wing off the current building, building a new building on land the district already owns, a satellite building and portable classrooms.
Ryczek said he looked at the old Woodworth School building on Highway 50 — most recently used as an antiques store — as a possible satellite location. While initially enthused about the building and its location near Strawberry Creek, he later grew concerned about cost of  repairs and upgrades, he said.
Tom Steiner, president of the Trevor-Wilmot Consolidated School District, said his district has a portable classrooms at the fomer Wilmor Primary Center property that are in good shape and the district is willing to sell. No price was discussed.
Ryczek said work on the future space needs in the  building likely need to start in 2013 to have the solution ready for the start of the 2014-15 school year.
The district will be  setting up a Strategic Plan Committee to help guide the process of finding more space, said Schol Board member Katie O'Neill.
About 25 people attending the meeting, which Ryczek said was a good turnout.
"I'm really glad to see the turnout we had here tonight," Ryczek said.