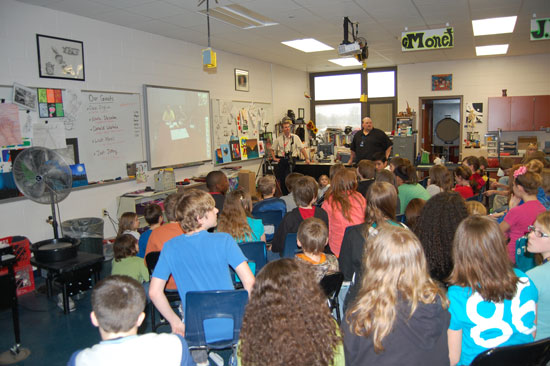 Trevor -Wilmot art students were able to visit the Andy Warhol Museum in Pittsburgh Thursday with no packing or transportation needed.
That's because the visit was accomplished in their own art room with an assist from some audio-visual technology.
Art teacher Bill Wald explained that the idea to Skype with a distant museum came from students wanting to plan a field trip to the Milwaukee Art Museum. That proved impractical but Wald knew the school had the technology to pull off a video chat instead. He asked around and made a connection with the Warhol, which also was looking to do this kind of outreach.
On Thursday, interested art students from fourth through eighth grade — many being members of the school's art club — gathered in the art room with a camera, microphone and video screen set up. After the connection was established, the students were able to talk with staff from the museum, including Don Warhola, Warhol's nephew.
Most of the interaction consisted of questions from the students, most fielded by Warhola, such as:
Did Warhol purposely use vague instructions to assistants to create art?
What did people like more, Warhol the artist or Warhol the man?
What was your favorite memory of Warhol?
Did artistic talent run in the family?
Here's a video of one of the questions being asked and answered to give you an idea of how it worked:
Besides answering the question, museum staff were able to give students a peak into the museum by showing image sof some of the exhibits and a video of the slik screen technique much used by Warhol and that students visiting the museum get a chance to try.
Walf said he was pleased with the experiment.
"It was the first time it was done on our end and on their end," Wald said.