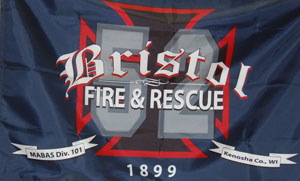 Firefighters extinguished a vehicle fire in a Bristol barn in the 6500 block of Highway 45 (Bristol Road) Monday evening.
The fire caused substantial damage to the 1996 Ford pick-up, but did not appear to damage the building or other vehicles stored in the  barn, a Sheriff's Department report said.
At about 8:20 p.m., a sheriff's deputy who was working at the County Center was told there was a fire nearby. While trying to pinpoint the location, the deputy saw smoke coming across Highway 45. As he pulled into the driveway of the residence, dispatch reported that the fire had been called in by the homeowner there.
The deputy was met by the homeowner carrying a fire extinguisher. The deputy, with his extinguisher, followed. The homeowner went inside the barn  where the truck was on fire, followed by the deputy. The deputy then persuaded the homeowner to exit the building.
Bristol Fire and Rescue, Pleasant Prairie Fire and Rescue and Salem Fire/Rescue responded and the fire was extinguished.
The engine compartment, dashboard and seat upholstery were burned in the truck, the report said. Some damage also occurred to the garage door wiring and lights in the barn.
The fire was not believed to be of suspicious origin, the report said.
The homeowner was transported to a Kenosha hospital to be treated for possible smoke inhalation.

View Larger Map