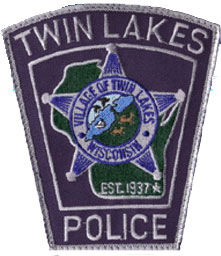 Twin Lakes Police have released a description of a man who robbed a village bank this afternoon.
The robber walked into the M&I Bank branch on North Lake Avenue at about 3:49 p.m., a police department news release said. He handed a note to a teller demanding money. The teller complied by giving the man an undetermined amount of money. The subject fled on foot to the south of the bank. No weapon was displayed.
Police responded immediately to a hold-up alarm received at 3:52 p.m., just after the man left the bank.
The suspect was described as: An adult male, white, 6-foot tall, weighing about 170 pounds and wearing a royal blue coat, blue jeans, white tennis shoes, dark sunglasses, red gloves and a dark scarf. When in the bank, he wore the hood over the head to just above the eyes and the scarf covering the face.
Chief Dale Racer said police were not able to find anyone matching the description in the immediate area of the bank right after the alarm.
This is the first bank robbery in Twin Lakes in at least five years, Racer said.
Police are unaware of any connection between this robbery and any recent robbery in the area, Racer said.
Investigation is continuing between village police, the FBI and M&I security.
Related post: