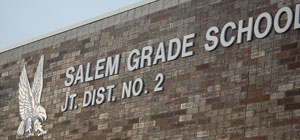 The Salem Grade School annual school-wide spelling bee was held on Jan. 16. Classroom spelling bee champions from grades 3rd-8th grade competed, totaling 52 spellers.
After over 250 words, the final round consisted of 7th grader Kenny Horner and 8th grader Lucas Ray. At the end, Lucas walked away as the 2012 Salem Grade School Spelling Bee Champion. Lucas has been runner-up for the past two years.
Lucas will move on to the regional spelling bee held at Whitewater High School on Feb. 8.