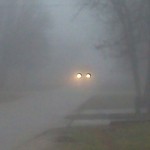 The National Weather Service has issued a dense fog advisory for an area that includes Kenosha County.
The advisory will be in effect until noon. Visibilities of less than a quarter mile may develop.
Dense fog in areas where the temperature is below freezing could form frost on untreated roads, the advisory says.