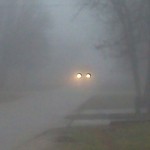 The National Weather Service has patchy fog in the forecast for today through 11 a.m. Then more fog tonight and into tomorrow morning.
Visibility could be less than a quarter mile in the worse spots. At 7:49 a.m., the fog seems to be getting worse here in Paddock Lake.
Temps will be pleasant though. A high of 45 today and 44 Friday.