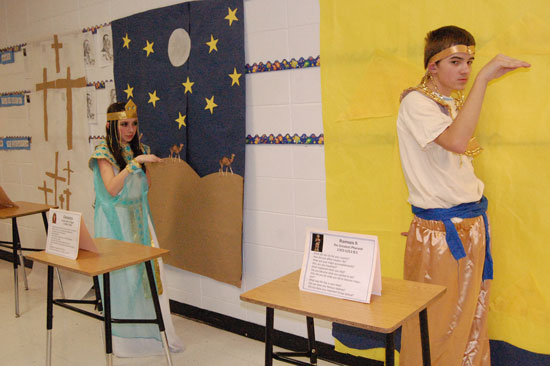 Parents, community members and students filled the halls of Trevor-Wilmot School Wednesday night to catch a glimpse of over 50 historical figures in a National History Day: A Night at the Museum event. Visitors were treated to one-on-one information explained by Cleopatra, George Washington, and Amelia Earhart, just to name a few.
This year's 7th graders spent the past month learning how to conduct proper research by finding facts on historically-significant people. The students were introduced to many research skills they will use in the future including MLA format, keyword internet searching and evaluating the validity of online sources. Once the students became experts on their subjects, they created costumes and backgrounds to best represent their figures.
On the big night, students were arranged in chronological order and stood frozen as "wax figures." Guests quietly strolled the halls asking prearranged questions. When a question was posed, the figure would spring to life, recite facts and then return to his or her frozen state. All students kept their composure and resisted answering questions posed that were not on the prearranged list. The stoic expressions most figures kept as well as their expertise on the famous person's life were impressive.
It was a big night for the 8th graders, as well. In social studies and language arts classes they have been working on projects for National History Day, a competition where students choose a historical topic that fits in with a predetermined theme (this year it is "Revolution, Reaction and Reform").
After with a kickoff visit from the Wisconsin Historical Society coordinator in October, the research by using the internet, interviewing people and visiting the University of Wisconsin-Parkside library for books and database articles. Then, they present the information they've learned by creating performances, websites, traditional papers, exhibit-type displays, and even high-tech documentaries.
One behind-the-scenes component of this nearly four-month project is the creation of properly formatted annotated bibliography packets — not glamorous, perhaps, but helpful for getting students ready for the rigorous work ahead of them in high school.
On the big day, 14 volunteer judges including a school board member, high school principal, college professor, and historical reenactors examine the projects, interview the students and and rate the students' work with the same rubric that is used nationwide.
At the end of the day, the students with the projects that have been rated highest were recognized at the evening's awards ceremony, and those students have the opportunity to advance to the Southeastern Wisconsin regional competition, and perhaps even further to state or national level.
Here are some more westofthei.com photos of both seventh and eighth grade projects (click link below):