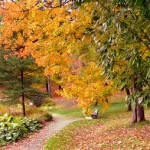 Bristol will be creating a public trees budget fund.
But in approving the action Monday night, Village Board members wanted to stress the fund will not entail any new taxes, but rather be a reallocation of funds already being spent under other village budget line items.
For example, tree trimming now done under the public works budget will now be assigned to the trees fund, explained Randy Kerkman, village administrator.
The breaking out of tree expenditures is needed so the village can pursue Tree City USA status. That title, conferred by The Arbor Day Foundation, would be helpful in obtaining loans that could be used to develop the nature park planned for property south of Highway 50 and east of Highway 45 that will eventually all be village park land.
To become a Tree City, the village will need to show it has budgeted about $2 per person for tree functions, Kerkman said. He is confident most of that could be shown to be being spent already in functions done by village crews.
In addition to the maintenance spending, the village may also need to allocate about $2,000 for new tree purchases, which could be transferred  from paving funds, Kerkman said.
The village may also have to create a tree board to qualify as a Tree City. That could be the Park Board or perhaps a separate board if there is enough interest.
Village Board members wanted to emphasize that the tree fund is new, but the money that will go into it is not.
"Times are tight, we need to explain this correctly," said Trustee John McCabe.
Said Trustee Carolyn Owens: "This will be fully explained that we are not raising taxes."
The motion to create the public trees fund passed unanimously.