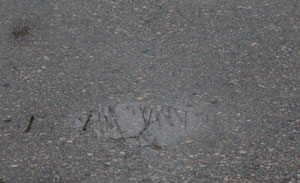 Where's the snow?
The National Weather Service's latest short-term forecast for the area says the main snow area is making very little eastward progress and that areas far south in Wisconsin (that's us) may have more drizzle and fog in the meantime.
I just spent sometime outside a little bit ago and the area is incredibly moist. Roads are wet. I'm not an expert, but I would say that could be a recipe for some deceptively slick roads later when temps plunge, snow or no snow. Be careful!
UPDATE 2:02 p.m. — I was holed up in a windowless room for a meeting from about 12 to 1:30 p.m. On the way to the meeting, it was still drizzling, but I a saw several county trucks out laying down salt. Now they're plowing. Roads are already pretty snow covered. It's likely to be a slow after school bus ride or commute home from the office or plant.