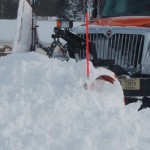 With the seemingly certian arrival of real winter weather today in the form of significant snow accumulations, wind and cold it seemd like a good time to revisit some information distributed by the Kenosha County Sheriff's Department back in November for Winter Awareness Week:
"We all remember the Groundhog Day Blizzard from last February, storms of that magnitude can and will happen again," said Sheriff David Beth. "It's important to have an emergency supply kit in your car – it could save your life. Being prepared for winter weather means knowing what different weather terminology means, staying tuned to changing weather conditions, winterizing your car and home and being prepared at home, at work and at school for potential power outages and severe winter weather." Winter storms/weather are known as deceptive killers, because most deaths are linked to traffic accidents on icy roads, people having strokes/heart attacks from over exertion (shoveling, snow blowing) and people dying from prolonged exposure to the cold. To keep people informed and aware of upcoming weather conditions, the NWS has developed key weather terminology so that people will always know what type of weather may be coming their way. People need to be aware of local forecasts and warnings and familiarize themselves with key weather terminology so that they remain safe and are always prepared for what Mother Nature has in store for them. Current and upcoming winter weather information can always be found 24 hours a day, 7 days a week on NOAA All Hazard Weather radios; the radio frequency assigned to Kenosha/Racine is 162.450 MHz; NOAA radios can be purchased at many stores with prices ranging from $30 – $80.
Lots more winter weather related info courtesy of the emergency management division of the Sheriff's Department available here.