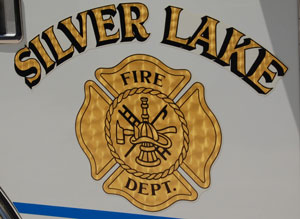 An ad hoc committee formed by village President Jeff Albrecht to consider the future of the village fire department and rescue squad is ready to meet with the Silver Lake Village Board.
Albrecht proposed the meeting with the Village Board at the conclusion of the ad hoc committee's second meeting Tuesday night.
The committee was formed to consider alternatives for the future of the fire and rescue departments because maintaining the current situation is untenable, Albrecht has said.
Some of the possibilities the committee has discussed included merging the two now separate departments or merging with another area department.

The committee is made up of people who have experience with fire and emergency service, Albrecht said. Some do not live in the village. Neither Fire Chief Bill Brown or Rescue Chief Robert Johnson are members of the committee, but Assistant Fire Chief Andy McFarlane is.
The chiefs will also be invited to the meeting with the Village Board, Albrecht said. The public also will be able to attend.
The meeting will take place Tuesday, however no time has been set yet.
Though no formal agenda has been developed yet, discussion Tuesday was that the joint meeting will give the committee a chance to hear concerns from all parties and then be able to research the best possible solutions.