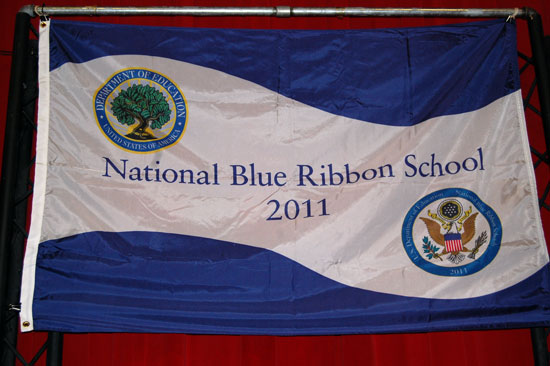 How does a school achieve a level of excellence worthy of statewide and nationwide recognition?
Lots of teamwork.
That was the message at an all-school assembly Thursday at Paris School at which students, staff, school board members and parents celebrated the school's designation as a Blue Ribbon School earlier this fall.
Only eight Wisconsin schools earned the designation and only 305 nationwide.
Who was recognized for contributing to the teamwork that resulted in the awards?
Everyone.
Receiving a plaque today from district administrator Roger Gahart were the school's bus drivers, office staff, support staff, maintenance staff, kitchen staff, school board members and faculty. Each student — last year's graduating class included — will receive a ribbon-pin and many opted to order a t-shirt marking the honor too.
After he presented a plaque to all of those people, School Board members Deanna Krumm and Lisa Ashmus and Paris YES Committee member Beth LaBell presented Gahart with a plaque too.
In addition, the school was awarded a plaque and flag.
And all of that hardware and recognition was due to teamwork, Gahart said.
"Teamwork is a huge thing  around here," Gahart said at the assembly. "At Paris School, every adult is responsible for every student. We all work our hardest for each and every one of you every day."
And teamwork extends to students too in their school habits and behavior, Gahart pointed out.
"If you're a good teammate in that class, if you are being the best student you can be, doing your very best on your homework, turning it in on time, if you have a positive attitude and you're always trying to be the best you that you can be, it's going to be very easy to be a team, because we know we all respect each other."
To cap off the special assembly, students heard from Marcus Hanel, a Milwaukee Brewers bullpen coach.
"This is the best assembly I've ever been too," Hanel said. "I go to a lot of schools where I have to motivate them. I don't have to do that here."
Hanel too talked about the importance of teamwork too and persevering in the face of tough times. The Brewers success this last season would not have been possible without a lot of teamwork.
"Don't be afraid to fail," Hanel said. "The best hitter in baseball fails seven out of 10 times."