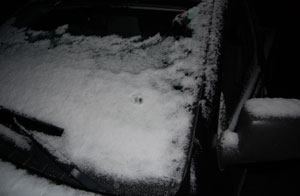 You'll probably find some snow on the windshield this morning. The snow on mine wasn't of the just knock it off with a brush variety. It was going to need a scraping.
The upside was there did not appear to be any snow on the streets, at about 6:15 a.m. Could be slick though. Some snow on the grass, however.
The snow shouldn't hang around too long. The forecast high today is 36; there's also rain in the forecast for tonight.