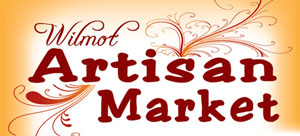 The Wilmot Artisan Market Gallery Walk will take place from from 10 a.m. to 6 p.m. on Sunday, Nov. 13.
The market is at 30723 113th St. Wilmot.
The market also will be raffling off a basket filled with art as well as coffee and goodies.
The market also is happy to have new artists at the gallery — George and Bonnie Evanson from Illinois. They do woodturning and watercolors. Come check them out and see what is new at the market.
Wilmot Artisan Market has 12 artists that live in Wisconsin or Illinois. More info is available at www.wilmotartisanmarket.com.
Affair of the Arts also is going on in Spring Grove on Nov. 13, 10  a.m. to 4 p.m. on Winn Road. This art event will include over 40 artists from all over the area. You will get a map at the door to visit all the stand alone galleries in a 10-mile radius. Affair of the Arts address is 7908 Winn Rd. Spring Grove, Illinois, one block North of Highway 12.