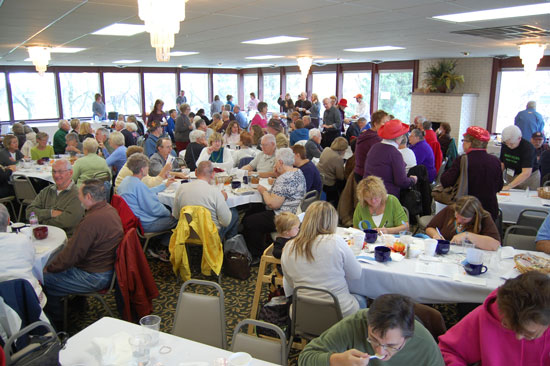 With the snow flying for a while in the morning, and then again during the early afternoon, and a chilly nip in the air, today was a good day for some soup.
Those who attended the 2011 Bowls 'n' Bakers event at Bristol Oaks Country Club Thursday had ample chance to maximize that opportunity.
Meals On Wheels and The Westosha Community Center along with their sponsor PATS Services, Inc. (a westofthei.com sponsor) hosted the fundraiser.  The soup tasting contest featured soups from these area restaurants:
75th Street Inn, Bacon Cheeseburger.
Binanti's Taste of Italy, Cream of Chicken with Rice.
Brat Stop, Tex-Mex Turkey.
Bristol Oaks Country Club, New England Clam Chowder.
Colony House, Creamed Chicken Dumpling.
Linda's Wilmot Café, Sweet Mama Squash.
Mad Dan's Family Restaurant, Minestrone.
Twin Oaks Country Inn, Chili Vegetable with Cheese.
Attendees were able to vote for their favorite soup and received a commemorative soup mug.
Here are some more photos from the event (click link below):