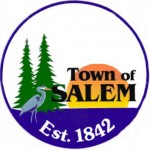 Theodore B. Kmiec III was selected Tuesday by the Salem Town Board to fill the vacancy opened by the death of Supervisor Joseph Meier last month.
Kmiec was one of eight people who applied to fill the post. All were interviewed by the board and graded by the board members and the town clerk. Kmiec received the highest score.
Kmiec will fill the board slot until the April election, when it will be filled for the balance of the two-year term that started in April of 2011.
Kmiec is an attorney with a practice based in Salem.
Board members said they were impressed with the qualifications of the applicants.
"I think we had the best candidates in a while," said town Chairman Diann Tesar.
Related post: