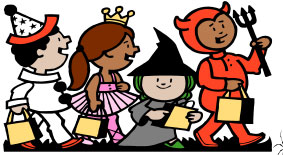 The local forecast for trick or treat looks fairly good considering some of the nightmare weather that can crop up this time of year.
Temps should be dipping down below the 50s by the start of trick or treat hours at 4 p.m., but not getting really colder until after 7 p.m., when trick or treat hours end. There's no rain (or snow!) in the forecast.
Sunset should come about 5:45 p.m.
Most Western Kenosha County municipalities that set hours have designated 4 to 7 p.m. tonight for trick or treating. Wheatland had their official hours Sunday and Brighton and Paris do not set hours.