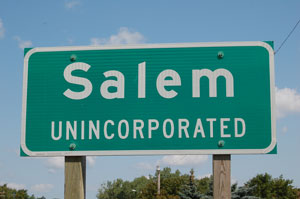 UPDATED 11/1 with last candidate interview. — DH

The Salem Town Board Wednesday interviewed seven of eight people interested in being appointed to the vacant supervisor seat held by Joseph Meier until his death last month.
Town Chairman Diann Tesar asked each candidate the same five questions:
What is your most significant personal or professional accomplishment?
Regarding the town budget, how would you balance the town's needs with keeping taxes as low as possible?
How do you influence people to see your point of view?
What is the most important issue facing the town and where do you see the town in 10 years?
Why are you the best choice for Salem supervisor?
The current board members plus town Clerk Cindi Ernest each graded everyone on their answer with a 1 to 5 scale, five being the best score. The scores will be compiled and used to select the appointee. One applicant, Thomas H. Floore, was unable to make today's session. Tesar said the board intends to meet and interview and grade Floore next week and then decide who to appoint.
Here is a summary of the answers from the candidates that appeared Wednesday in the order they were interviewed.

Theodore B. Kmiec III
Question 1. Biggest professional accomplishment has been opening a business (his law office)  in Salem. Kmiec said he worked as an assistant district attorney for 10 years. years. "I enjoyed prosecuting really bad guys. But I enjoy this side better." Kmiec made a conscious decision to do a community based practice where he loves the community. "I am very proud of the fact that I (left) the big city and came to a community I love." Biggest personal accomplishment is his two sons and finding the time for family activities despite a busy work schedule.
Question 2:  "I'm well aware that budgets are shrinking." Towns have less federal and state money to use. "I would take a look at what town services really serve the town residents the most." What needs to be funded must be prioritized. "People are on fixed incomes, people are losing their jobs, people are losing their homes."
Question 3: "Interesting question to ask a lawyer, eh?" As an attorney he has to educate himself about matters in which he is not an expert. "You have to have an understanding of what you are trying to influence people about. You have to listen to both sides and you have to have an open mind. People know when you haven't done the back work on something."
Question 4: "I think infrastructure is important. Roads are attractive to business." Spending and taxes is the most important issue. "People are hurting now. I think they're having trouble making their payment." As for development, "I'm not 100 percent sure industry is the way to go" due to possible adverse effect on lakes, which he thinks are the area's top asset. (He lives on Hooker Lake). He favors attracting more professional businesses and very light industry. "I'd like to see us develop a little bit, but I'd like to see it controlled. This is a country setting."
Question 5:  "I really looked at Joe (Meier) as a quality person. I'd like to keep the quality going. When I was 4, I used to cry when it was time to go home; I wanted to stay here. I've loved this town, I always have. I want to help the people. I have helped people one way, now I'd like to step it up even further. All trial lawyers are politicians in some respect. I don't aspire to politics;  I just want to help the town."
Wesley J. Dumalski
Question 1. Getting married and having children is greatest personal accomplishment. Had a stillborn child. That gave him and his wife a chance to evaluate life. He decided to make a career change and get into mortgage sales. Now he has built his business into a top performer within his company.
Question 2: "I do not have a tremendous amount of experience in" budget preparation. "I would need more time to digest." Would strive to apply "common sense."
Question 3: Mortgage sale is "a sales business. I'm selling myself." He had a hard time at first in sales. He went on to develop a very transparent and honest approach listing pros and cons for his clients. "I don't force my ideas down somebody's throat." You have to lead people through self discovery.
Question 4: Dumalski has been a resident for eight years. More interested in community since having a child. "I just kind of think the direction of the town … even though there's a plan, what I don't feel is like a true direction like a unified vision of what we're going to see in 10 years. I'd love to see the townspeople a lot more involved…" Ultimately what I would like to see is industrial light development in Trevor area.  "What drew my wife and I to live here is it feels like we're on vacation. What I would like to see is for Salem not to lose that."
Question 5: "I like to think of myself as kind of a creative thinker. I'm a human being and I'm not afraid to show it."
 Jeff Cech
Question 1: Spent four years in the  Marine Corps. "It did a lot to shape what I am today. It was the hardest thing I ever accomplished." Also earned a master's degree  from Northwestern University in managerial communications. "It made me a better manager in my previous job and allowed me to get the job I have today."
Question 2: " I try to be realistic and I think I would bring that to this body if I were selected." Services cost money. People do need to have services."What we can do is keep our cost as low as we can." Look for ways to work outside of the levy and exploit other revenue sources to the maximum possible. "The long-term goal should be to increase the property value of the town."
Question 3: "I always try to get my employees to think like the owner of the business does. That's a hard thing to do because no one really has the same financial stake as the  owner. "The best way to influence people is to really hear them out." Influence people not by ordering, but by education.
Question 4: Most important issue is budget, even more so now. "Hands down I'd have to say the overriding most important issue is money. I think the town has done a responsible job in growing. I would expect that to continue. I'm happy with my property taxes. There's no such thing as a free lunch."
Question 5:  "I've  had an interest in government for three or four decades. I get that from my father. I'm kind of a nuts and bolts kind of person. I like to make decisions based on facts. I don't know if I would be the best candidate, but I think I'd be a good one."
James Walker
Question 1: Greatest professional accomplishment is being a board member at Riverview School District. Knew little about how a board or school district worked before that. "Through that I've learned a lot." Greatest personal accomplishment is three kids. Also is a Aquanuts ski team board member and boat driver.
Question 2: "We have to look at all the services that are provided to the community and set priorities. You just have to prioritize every line item. You may find things you can trim from the budget."
Question 3: "I do it by putting myself in their shoes and trying to see things from their perspective." Ask questions and then convey what is important to you.
Question 4: "Everyone is facing budget cuts." Most important issue is finances. As long as you always make decisions by what's right for the people, that will be right. Hasn't given thought to the town 10 years down the line. Before offering details, he would want to know more about where things are.
Question 5. Best " because of the board experience I already have." He has worked with lawyers and knows statutes. "I've worked very well with both ends (in labor negotiations). I would be able to walk in the door and know policy and procedures, relating to board behavior."
Steven M. Brown
Question 1: "Education has always been important to me." He was the first to get a college degree in his family. Has a bachelor's degree, master's degree and Ph.D. He sees helping others reach their goals as the key function of being an educator. "I've always felt myself to be very fortunate in the jobs I've had. I really see it as an extension of what I was able to achieve as a teacher, helping people reach goals."
Question 2: In Salem the population growth is now flat. "We're not growing as we have in the past and our tax base is down because of that. I think we need to lower our taxes." Not in favor of salary increase across the board for employees. "I think the general public would love to see not only a zero increase in the budget, but a decrease in the levy." The  board needs to look at all of the areas and make cuts to keep the levy down and keep services as expected."
Question 3: As a school administrator, it was really critical that he presented all of the facts and that tried to do that objectively. "I put things out there as a case study or scenario … and let people see what the ramifications are of a decision. I have no problem giving my opinion on something. I also know I am one voice on a board."
Question 4: "I'm a fiscal conservative." I think that by cutting the budget it will send a strong signal to the community. He sees the economy picking up and starting to grow in 10 years. "This is a place where I enjoy living." He wants more commercial, planned growth — smart growth.
Question 5: "What I bring is experience in the public sector and dealing with large budgets. I have served on both sides of the negotiations table. I believe in honest government as a fiscal conservative. We don't have unlimited funds, but everyone wants services to be delivered… I have a good head when it comes to managerial skills." He has attended some Town Board meetings. "I am not someone who just began attending meetings a month ago."
Gail Peckler-Dziki
Question 1 Biggest personal achievement is raising her children. "That's a huge accomplishment." Worked for weekly newspaper for 12 years, but wouldn't write for them if she gets appointed to the board. "I honestly try to do my job." Biggest professional accomplishment was while on The Sharing Center board. She got involved, beefed up the board and brought the organization into the black and set up with better quarters. "To me that's a really big accomplishment that we kept that place afloat, and now it's really blossoming."
Question 2. "You really have to prioritize what you do and find where you can cut off fat."
Question 3: "What I would do is have all of my ducks in a row and have all of the information that is important. The more information you have the better. This is what I do with my job, collect information." But at some point, one has to move forward to action.
Question 4: "What I would like to see come up again is the idea of the urban town. Is it a time when urban town legislation can go through? You get tired of being picked at by the village vultures." Also wants to be able to maintain some of the more rural areas. "The most important issue facing the town … is the financial situation how do we maintain and improve those things … the town is supposed to take care of without leaving our residents dry… We have tools from Madison to so this now."
Question 5: "I want to do this, I have the time to do this. I have lived in the town for 20 years. I have covered the town for a dozen years." Because she has covered government she knows what works and what doesn't work. I have no problem researching things." She has relationships with other municipalities through her work for the paper. "I am funny; you need that sometime at these meetings, to laugh."
Amee V. Janus
Question 1: Going back to school is her most significant accomplishment. "It's definitely hard work."
Question 2: "There's always needs as opposed to what can wait. It's a balancing."
Question 3: "Visual aids are big with me" such as PowerPoint and stats. "They get the bigger picture than just telling people."
Question 4: "I think the town at this point the biggest issue might be replacing some of the roads, not just repairing them." Also sees a need for more parks and recreation and likes the idea of a bike path network.
Question 5. "I'm young and I have a lot of technical experience. I'm definitely a people person. I'm always available and I like to be able to help people." She has taken a lot of initiative in neighborhood projects. "My goal is to help the community and bring everyone together to help each other out."
Thomas Floore
Question 1:  Biggest personal achievement relates to one of his two sons, who has autism. Doctors and therapists said he would never speak. "My wife, bless her heart went to the n'th degree…" and they found people to work with him. Eventually his son exceeded the initial expectation. "It's been an accomplishment to defeat that." Biggest professional achievement is doing the job he has now. He is a regional director for a retailer based in Colorado. "It's a diverse job." In the region are 4,000 employees with 120 locations. Of the town, he added: "I love it here; my family loves it here."
Question 2:  "In the economic climate today, there's a lot of challenges facing our business. We look at a return on every dollar we spend. In the town situation … you have to look at everything that's available and what's the best way to go after cost."
Question 3: "In my current role, they have to sort of accept my ideas, because I'm the boss." But he doesn't like to think of this as the reason they do listen. "You have to lsiten to people and different views. You have to be a good communicator."
Question 4: "I think the town over the past 10 years has done a good job in terms of growing, but I think we need to continue to attract people to live in the town." The town can do that by having attractive taxes and service. The town also needs to attract business here to invest and grow. "I would want to see this in the next 10 years be the beacon of Western Kenosha County. "
Question 5:  "I don't know and I think you will be the best judge of that. What I bring is a good sense of ideals, a good sense of purpose about what I want to accompolish. You'll find I have a high degree of integrity and honesty And I care about the town; I want the town to be successful." He also mentioned that Joe Meier was his sixth grade teacher.
Related post: