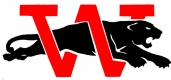 The Wilmot Union High School Panthers advanced in the state football playoffs by holding of South Milwaukee 23  to 2o Saturday night at Bucci Field in Wilmot.
Wilmot seemed to have the game well in hand, leading 23 to 7 at the end of the third quarter.
But South Milwaukee surged in the last quarter, scoring 13 unanswered points to tighten Wilmot's lead to three.
Next up, Wilmot will play Waterford next week on Friday or Saturday. Waterford defeated Greenfield Friday night.