The Paddock Lake Village Board has voted to increase the rent for The Sharing Center by $940 per month for the village-owned building the center occupies on 236th Avenue.
The action came after a closed session discussion of the lease at the tail end of Wednesday's regular Village Board meeting.
But one village official said she has a plan to try to get some of the increase paid by other municipalities.
Village officials have for the last couple of years sought to increase the rent for the relief agency to something closer to what they see as market value for commercial rental property. They make the case that by charging less than market rate, village taxpayers have been subsidizing the center to a disproportionate extent compared to other municipalities, some of which have a greater number of clients served by the center.
Last year the village increased the center's rent 10 percent. This year's increase is 78 percent.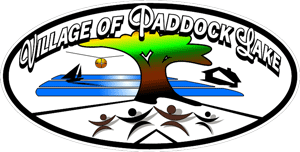 Village President Marlene Goodson said the increase was difficult, but necessary in a time when the village has seen decreased revenue, especially from state revenue sharing. The village needed to find ways to help make-up an anticipated short fall in the 2012 budget.
While sympathetic to the work done by the center, the board felt a responsibility to village taxpayers, Goodson said.
"It's tugging at our hearts because it's taxpayers dollars," Goodson said.
The Sharing Center Board of Directors President Kim Swanson  released the following statement via email:
I am surprised to find out the Village did not accept our lease counter-offer of $1,800/mo. We have been working with the Village since June regarding lease negotiations and in August the Building and Grounds Committee unveiled the rent proposal of $2,150/mo for 2012. The SC had offered a 3 year staggered rent increase increment so as not to absorb such a big jump in one year. Obviously, the Village did not want to pursue that option. Since I have not been officially notified by the Village in regards to their vote Wed night, I am unable to comment on the details of their plan … The Sharing Center has over 400 new clients this year. We are very lucky to have the support we do to carry out our mission."
Goodson said she will attempt to persuade the other municipalities in Western Kenosha County to make up the difference between the $1,800 the center had offered to pay per month and the new $2,150 per month rent. She is planning to contact the municipal leaders by letter inviting them to a public meeting to see what can be done.
"Let's try to get some other municipalities to help," Goodson said.
Note: westofthei.com co-publisher Karen Hillock is a member of The Sharing Center Board of Directors. — DH