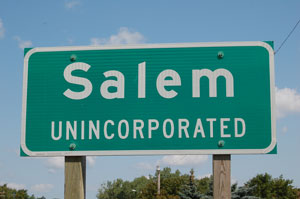 The strong credentials of the  pool of candidates interested in filling a vacant supervisor seat convinced the Salem Town Board to interview all eight rather than try to narrow the field before interviews.
"We have some nice candidates," said Supervisor Patrick O'Connell at a special Town Board meeting Friday.
The vacancy was created when Supervisor Joesph Meier died suddenly on Sept. 4. The following individuals applied to be appointed to his seat:
James Walker.
Amee V. Janus.
Gail Peckler-Dzik.
Steven Brown.
Jeff Cech.
Wesley Dumalski.
Theodore B Kmiec III.
Thomas Floore.
Faced with filling vacancies in the past, Salem Town Boards have sometimes whittled down initial fields of applicants to two or three top contenders. That was the case when he was first appointed to the board to fill a vacancy in 2003, Supervisor Dennis Faber said.
But the sentiment of board members this time around was that all candidates who submitted credentials for consideration were worthy of keeping in the process.
"I want all eight," town Chairman Diann Tesar said.
The board agreed to work from a uniform set of questions to be asked of each candidate and to have Tesar ask the questions with a minimum of back and forth. Tesar will try to arrange as many interviews as possible for Oct. 26, with a second date of Nov. 2 if needed.
The interview sessions will be an officially noticed open meeting, but the board said they would like to see candidates stay in another room except when answering questions from the board.