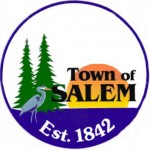 Who says people aren't interested in pubic service anymore?
In the wake of the sudden death of Salem town Supervisor Joseph Meier last month, the town solicited applications from individuals interested in being appointed to Meier's seat.
The response was strong compared to some similar situations in the area and especially when School Boards have vacancies to fill, with eight individuals showing interest.
Hers's the field:
James Walker.
Amee V. Janus.
Gail Peckler-Dzik.
Steven Brown.
Jeff Cech.
Wesley Dumalski.
Theodore B Kmiec III.
Thomas Floore.
The Town Board has scheduled a special meeting this Friday at 5:30 p.m. to discuss the process to select a replacement, including qualifications, perhaps narrowing down the field and setting  a date and time for interviews, said town Clerk Cindi Ernest.