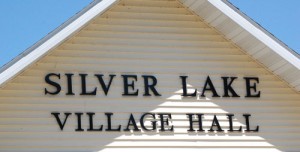 The citizens comments section of recent Silver Lake Village Board meetings lately have been contentious affairs with the audience asking pointed questions and challenging answers they were getting from board members.
That wasn't the case Wednesday night, which saw only one in-person citizen comment — from a Pleasant Prairie resident running for circuit court judge — and one letter read by a trustee on behalf of a resident.
Perhaps things were cooled by a statement by Trustee Chris Willkomm before the meeting about what he termed as illegal discussions between board members and citizens during the comment sections of recent meetings.
"The last few meetings we've had have been very sloppy," Willkomm said.
Willkomm went on to say that when audience members addressed items not on the agenda that the proper procedure for board members was to say no more than they would refer the matter to a committee. During the meeting, that procedure was initially confirmed by Village Attorney Linda Gray, however she later read from an open meetings compliance guide form the state Attorney General's Office offered by village President Jeff Albrecht that seemed to allow some leeway for discussion to take place.
Willkomm cited the citizens comments situation as a reason for not approving the minutes of the last board meeting, which he contended would constitute an acceptance of what he saw as an illegal meeting. He and Trustee Sue Gerber ultimately voted against approving the minutes.