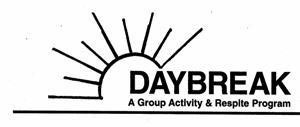 Daybreak, a program of the Kenosha Area Family and Aging Services Inc. currently has openings.
Daybreak is a social activity program for adults in the early to middle stages of Alzheimer's disease or a related memory disorder. This program provides much needed respite for caregivers while allowing their loved ones to participate in activities and develop new friendships.
If you or someone you know is caring for someone with Alzheimer's disease and would like additional information about our Daybreak program please don't hesitate to contact us at 262-657-8089 or visit our website at: www.kafasi.org. There are three program sites: Kenosha, Bristol and Twin Lakes.