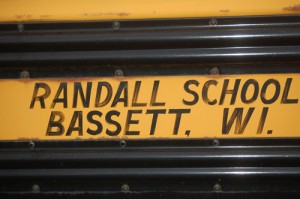 The Randall School Board is inviting interested community members to attend informal sessions to get acquainted, ask questions, and share information about the school district.
The sessions will be held in the school library on two occasions. Each session is scheduled for one hour. The dates and times for each of these sessions are:
Monday, Oct. 3,  from 6:30 to  7:30 p.m.
Tuesday, Oct. 4, from 7 to 8 a.m.
A light snack and beverage will be offered at each session. If you attend the Tuesday morning session you are invited to take part in the Randall Breakfast Program. Cost of the breakfast is $1.30. Please contact Natalie Borowski at 877- 3314, ext. 100 if you wish to eat breakfast that morning so that an adequate number of meals are available.
The district would like to have a count by no later than Friday, Sept. 30.
Two members of the School Board will be present to speak and listen to community input and feedback on the recently established Board Goals. These three year goals (2010 – 2013) were created following a planning session of the board held on June 29. 2010. The goals, in no order of importance, are as follows:
Goal #1: The District, in collaboration with various stakeholders, will develop a positive image campaign to highlight the positives of Randall School. Goal.
#2: The District, in collaboration with various local, state and federal professional organizations, will advocate for major reforms to the existing Wisconsin state school funding formula.
Goal #3: The District will, as a local staff development initiative, continue to explore avenues to enhance student academic achievement. A major source of instructional support for such improved student learning will be the continued infusion of technology into our classrooms and support for teachers and staff to utilize technology more fully in their work with our students.
Please take time to familiarize yourself with the Board goals as noted above and make arrangements to be present to share any thoughts, ideas or suggestions that would positively move Randall Consolidated School forward in and effort to meet its' mission of: "Striving Toward the Achievement of Excellence"