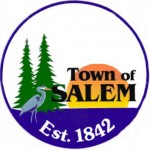 Salem is seeking individuals interested in filling the town supervisor position vacancy created by the death of Joesph Meier.
The appointed candidate will serve until a special election can be held to fill the remaining portion of the unexpired term. The special election is tentatively scheduled for April 3, 2012. The person elected then will serve until April 2013.
The town will accept letters of interest, resume and background information from interested candidates until the close of business on Friday, Sept. 30. The Town Board will conduct interviews of candidates in October. The board will choose and appoint a candidate who will take office in November, 2011.
Interested candidates may mail or drop off their application materials between the hours of 8 a.m. and 4 p.m. Mailed materials should be addressed to: Town of Salem, Attention: Diann Tesar, 9814 Antioch Road, Salem, WI 53168.
If there are additional questions please contact the town at 843-2313.